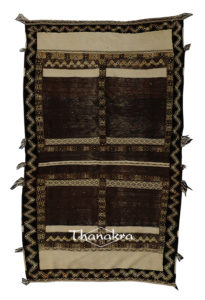 Unusual black "glaoua" carpet most probably from the Aït Makhlef tribe in Jbel Sirwa, south western Morocco. It is woven using handspun wools over coton warps.
This glaoua carpet has been altered by removing some of the pre-existing geomatrical designs, probably colored; this  in order to make it look lighter. The wool is mostly of natural colors, undyed. Only a few very small elements are of dyed wool. The carpet is woven using the symetric knot, a traditional practice in this region.
Glaoua carpets mix knotted area and flatwoven area, and well as some cordelage technics.
Period: 1970/80 – Dimensions: ca 235 x 140 cm / 94″ x 56″.
Ref: Y0114