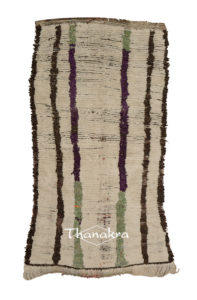 Here is a  superb Bou Ouli or Bou Guemmez carpet.  It originates in the mountains just over the city of Azilal down the northern slopes of the central High Atlas.
Rather narrow, this striped Azilal carpet belongs to this local tradition of such long and narrow carpets fit for the dwellings of  these tribes: high buildings made of adobe, stone and timber where rooms are usually long and narrow.
Built over cotton warps, it uses wefts made of handspun or industrial wools. The  knots are made of handspun wool, mixed wools and rag. With a rather low knots density, this carpet is not thick. It  should therefore be used in a low traffic area, or better, hung on a wall .  Period: 2000's – Dimensions: ca 245 x 120 cm / 98″ x 48″.
Ref: Y0116