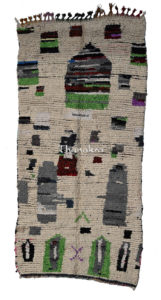 Here is an elegant rug originating with the Ait Bou Ouli or Ait Bou Guemmez in the high valleys of the central High Atlas of Morocco.
Over a white open field, this carpet lays elements of rather rectangular shapes and with various sizes and colors: just like boats over a sea of white wool.  A true writing by the weaver whose one might only guess the intentions.
This composition may however remind of the traditionnal practices of the neighbouring Haouz of Marrakech tribes. Usually, Aït Bou Ouli and Bou Guemmez people lay geometric black/ dark brown designs over a pure white background.
Period: ca 2000 – Dimensions: ca 260 x 130 cm / 104″ x 52″
Ref: Z0224